CORVALLIS CUSTOM KITCHENS & BATHS:
Meet the Team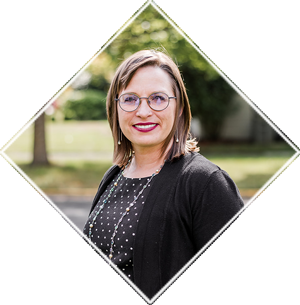 Alicia Lindsay
Showroom Manager
Walk into the Corvallis Custom Kitchens and Baths showroom and you will be greeted by an award-winning smile. This enthusiastic grin belongs to our showroom manager, Alicia Lindsay. Alicia answers the phone, greets clients, schedules appointments, and manages the website and social media as well as deflecting pesky robo-callers with her anti-robo force field. As project materials arrive from our suppliers, Alicia opens and inspects every one of them before they are sent to the job site for installation. She facilitates all of the essential details of the renovation process.
Organizing a myriad of details is no new task for Alicia. She's spent 12 years working for the Bend/LaPine school district as an EA substitute and media specialist/librarian. During this time, she juggled books, children and more than the occasional non-cooperative iPad. Next, she became a traveling sales rep' for Gumdrop Books, a well-known distributor of educational books to school libraries. During this time, she visited clients, processed orders and provided customer service to valued patrons. Her experience and skill set is perfectly suited for her role at CCKB, and her charismatic personality doesn't hurt things either.
Despite her gentle appearance and lovely smile, you may be surprised to find that Alicia owns a sailboat and regularly takes it offshore with her husband, chasing adventure, fish and the horizon. She finds peace and relaxation while harnessing the wind far from land. Get her on the softball field and you'll discover why she has earned the title "Princess Feisty" (Yes, she has a healthy competitive streak). Although she has traveled to Mexico, Canada and all over the Pacific Northwest, she states that she would love to do some more traveling, perhaps explore some new places in the world. In the meanwhile, Alicia adds her fair share of sunshine to the life of our busy CCKB showroom.