CORVALLIS CUSTOM KITCHENS & BATHS:
Meet the Team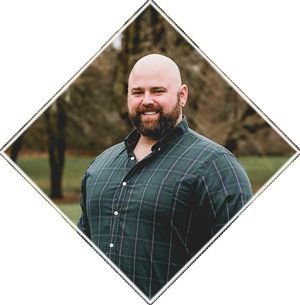 As a young boy, Chris would find himself designing and building wooden toys with a makeshift band saw, drill and sandpaper. Although he loved to sketch his designs on his schoolwork, his teacher did not share his enthusiasm for the drawings that covered the periphery of his math papers. Years later, Chris graduated from construction trade school, where he learned to build houses from the ground up. Chris' skills as a woodworker were further expanded during his time spent working for The Wood Castle, a company that builds fine wood furniture. This combination of education and experience led Chris to begin making commissioned heirloom furniture in his small home workshop. He brings a unique experience to the Corvallis Custom Kitchens and Baths team.
Being the family man that he is, Chris loves to watch things grow. This holds true for his family of six as well as his backyard garden. He can be found out back, with kids in tow, picking fresh strawberries and sampling foodstuff from the garden. He values quality time spent camping, biking and traveling with family.
In addition to his commitment to family, Chris has invested himself in humanitarian missions work. He has spent time in Argentina laying sewage pipe to improve sanitation in troubled areas as well as feeding and caring for impoverished communities in Mexico. He has also spent time serving on the Simnasho Indian reservation in central Oregon. Chris is the burly teddy bear with a big heart on the job site. On any given day, you can find him single-handedly pulling an old hot tub from its basin as well as providing a big, warm hug to whoever may need it.