Bullevard St.
Additions

Our clients have remodeled several homes and even built a few homes as well. So, they came to us very familiar with the remodeling process and all ups-and-downs that can happen with it. For this project, we were going to remodel/build many areas in the home including the kitchen, mudroom, living room, attic, an all-season porch, and basement storage. Throughout a year-long design process, we were able to help create a floorplan that had the perfect open concept they've been wanting. With a solid vision and plan, we strapped on our tool belts and began to work!
Our clients wanted to create a larger kitchen to host gatherings that incorporated functional storage spaces utilizing every nook and cranny. We designed this space with a large island topped with Verde Bordeaux granite countertop with extra bar stool seating for 5. To add a personal touch that the clients loved, we incorporated their antique buffet cabinet into the island design. To open their space and create a fresh breath of air, we installed large windows opening their house to scenic country views and an abundance of daylight. To appreciate their country views throughout the entire year, we added an all-season porch that is heated and air-conditioned for year-round enjoyment of the beauty around them.
Along with enlarging the kitchen and open window concept, we also created a multi-functional mudroom for everyone in the family, including pets! The new renovations allowed for an extra refrigerator and freezer space, an electric dumb waiter from the garage to the main floor of the house, and a dog grooming station. Next, we used the attic space and created a cozy office space/den that makes working from home much more comfortable and enjoyable.
The final touches to make their home perfect included creating extra basement storage and flex space for their grandchildren to play in, plus a little nook for a watercolor paint studio for the clients to enjoy.
Features Include:
- Updated kitchen with furniture-style cabinetry and toe kick drawers
- Refurbished antique buffet-style kitchen island
- Hidden doorway between kitchen and master bedroom walk-in closet
- All-season porch addition
- Garage below the main level
- Electric dumbwaiter
- Dog wash station
- Expanded basement with storage and gaming rooms, and a painting studio
- New siding, roof, and custom metal railings
Design: Tinsa Schweitzer and Holly Needham
Photography: The Vine Studios
BEFORE & AFTER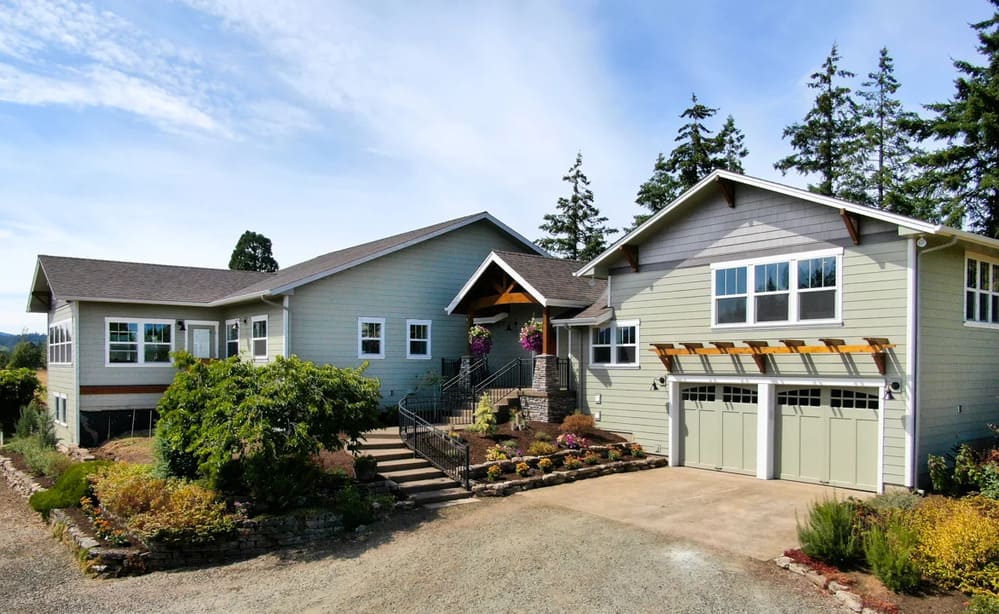 Slide bar to the left or right to see the project before and after.