WHY BATHROOM REMODELS MAKE YOUR CORVALLIS, OREGON HOME A RELAXING SANCTUARY:
"The bathroom is where people start and set the tone for their day. It can also be a place where they relax and pamper themselves in their tub or steam shower. The purpose of the bathroom is shifting from being simply functional to spa-like and geared towards relaxation and self-care."
Tinsa Schweitzer, Designer & Co-Owner, Corvallis Custom Kitchens & Baths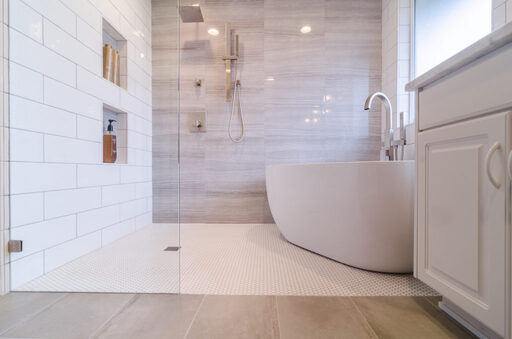 Dated, cramped, and worn. These are words we hear all too often when a client calls us for a consultation on a bathroom remodel. Bathrooms are the "crows feet" of a home; they tend to show the first hints of age. Left unchecked, that "dated, cramped, and worn" feeling has the tendency to make homeowners feel like the space no longer works; there is simply not enough space to be comfortable. You deserve to work with bathroom designers that know what they are doing. Also, many homeowners tell us that their worn bathroom really adds stress when guests arrive.
Prior to remodeling, our clients start and end their day in a bathroom that is uninspiring in either form or function. It subconsciously sets the tone for their day. It doesn't have to be this way. What people expect from their bathroom has evolved significantly in the last 10 years. Its purpose is more than just being beautiful and functional. Many homeowners are adding features that are geared towards relaxation and self-care.
Our bathroom remodel clients contact us because they want to have a bathroom that is fresh, comfortable, and functional. They want a remodel that conveys the feeling of quality and newness throughout the home. Visualizing what is possible in a bathroom remodel can be challenging for homeowners due to the sheer number of options available today. Some clients know exactly what they want and need help making their ideas a reality. Other clients come to us because they don't know where to begin and need help to visualize what can be achieved with their existing space. In either case, contacting our skilled design and build team is the first step to making your bathroom a relaxing, rejuvenating sanctuary.
Every bathroom remodel is different. The biggest challenge most homeowners face when considering a bathroom remodel is understanding what is possible to achieve in their bathroom.
"Bathroom remodels are a hidden gem for homeowners. When a client has lived in their home for five, ten or 15 years or more, they get accustomed to their bathroom, the fixtures, tile, etc. They can have a tendency to put off a remodel, but then one day, they wake up and realize that the space just isn't working for them anymore. The remodels we do for clients like that are transformational… both for the home and the homeowner."
Tinsa Schweitzer - Owner, Corvallis Custom Kitchens and Baths.
Our goal is to show you what is possible when it comes to a bathroom remodel that adds value to your home. Learn more about our process by clicking here.
---
As Co-owners of Corvallis Custom Kitchens & Bath, Ryan and Tinsa have built an experienced design and build team who take pride in helping you to get the most from your home. They sweat the small stuff so you don't have to. CCKB makes your design and build project smoother and more pleasant than you could ever imagine. You'll love the results!
Our past Corvallis, Oregon bathroom remodeling projects that we would like to showcase: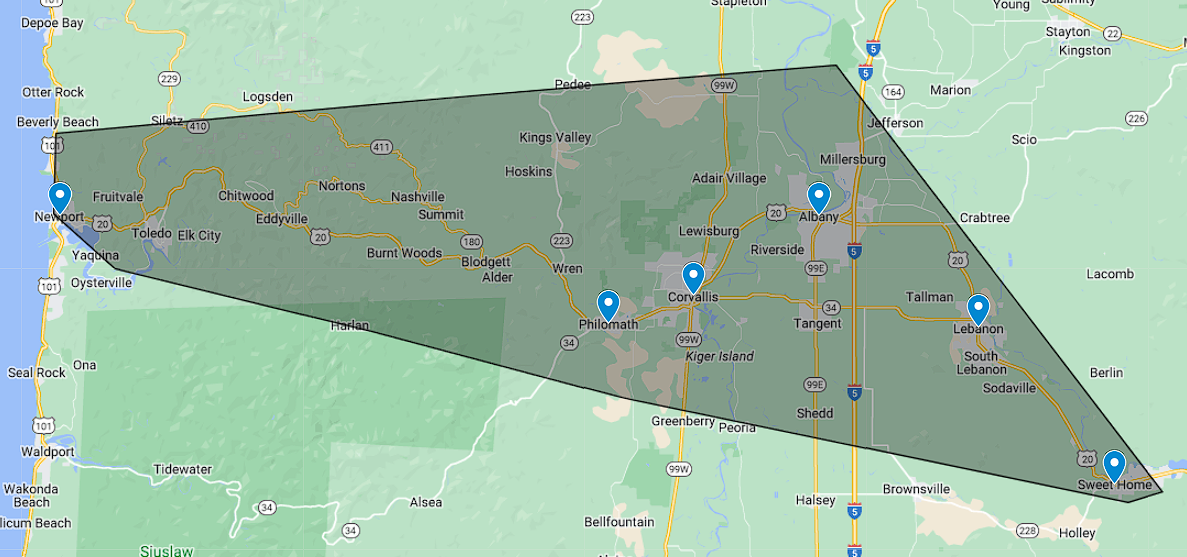 Areas We Service
Corvallis Custom Kitchens & Baths proudly remodels in the following areas of Oregon:
Lebanon
Sweet Home
Albany
Corvallis
Philomath
Newport
Don't see your city on our list? Reach out to us to see if we can remodel in your area.