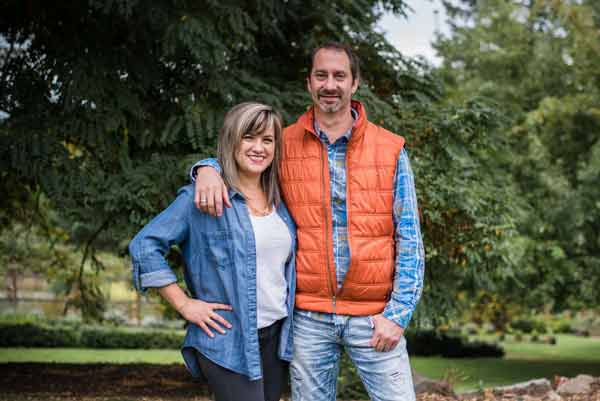 CORVALLIS CUSTOM KITCHENS & BATHS:
Home Building & Remodeling Experts in Corvallis, Oregon
You love where you live. It's the place you and your family have grown up together; it's in the perfect neighborhood; it's where all your fondest memories are; it's home.
We know what it's like to love your home, and we understand the importance of having a home that meets your needs. That's why Corvallis Custom Kitchens & Baths specializes in creating homes that match our clients' lives. Whether you need a small home makeover, whole home remodel, or custom-built home — we've got your back!
Home has a special place in our hearts at CCKB. That's because we're not just an Oregon design-build company — we're a family-run business. Our owners are husband-and-wife team Ryan and Tinsa Schweitzer, who've been together since 2002. As husband and wife, they're life-long partners and friends. As business partners, they make a team with the experience, know-how, and commitment to build homeowners the living spaces of their dreams.
Ryan is the builder. He believes homes deserve second chances. And third and fourth ones. So, before you think about leaving the home you love, let Ryan help you reimagine what you already have. He'll find creative ways to make your home suit your needs and style forever. Or, he can build you a new one altogether!
Tinsa is the designer. She has an eye for color, shape, texture, and light, and knows how to help you create the perfect look without losing functionality. Plus, with extensive experience as a licensed real estate agent, she can tell you which improvements will add the most value to your home.
Ryan and Tinsa will take the time to get to know you, your passions, your style, and the way you live. Together, they'll make your vision come to life. With the expertise of CCKB's capable team at their side, the Schweitzers will also provide you with all the information and services you need during the remodeling or home-building process.
Speaking of processes — besides the fact that we're a family-run business, CCKB stands apart from our competition because of our streamlined design-build process.
Working with a design-builder means all your services, tools, resources, and points of contact are all under one roof. In this case, Ryan and Tinsa's roof. By offering all these services, CCKB provides a simplified process that saves you time, money, miscommunications, and doesn't leave your head aching. The end result is a more cohesive, higher-quality product and an authentically enjoyable experience for our clients! Read more about our process down below.
CORVALLIS CUSTOM KITCHENS & BATHS:
Our Design-Build Process
The details surrounding the design process can be intimidating. Often times, clients have a big-picture idea of changes that they would like done, but details like material-type, hardware and color are overwhelming. Who is in charge of what? How are craftsmen scheduled to work on the home? Who does the homeowner pay, and for what? How are the efforts coordinated?
Many homeowners who are considering a custom home or remodel ponder these questions with their loved ones and then put off contacting a professional firm because of being overwhelmed. You don't have to let questions like these stand in the way of getting the home or custom remodel that your family deserves.
Traditionally, remodeling services required an architect or designer to create the construction drawings, these drawings served the purpose of putting the vision for your remodel on paper, which is necessary for permitting purposes and to develop a contract. These construction drawings were then transferred to a general contractor, who oftentimes had no connection with the architect or designer who put your vision on paper. It was the job of the general contractor to turn your vision on paper into reality.
This traditional model presents several challenges for the homeowner, especially since the vision for the remodel that was conveyed by the homeowner to the architect or designer is being carried out by the general contractor… secondhand, and requires some aspect of project management from the homeowner to make sure that what they envisioned is actually being constructed.
A better way: Realizing that many homeowners don't have time to be a part-time project manager on the remodel of their home, here at CCKB, we provide integrated Design and Construction services under one roof. The design that you see on paper is the design you'll receive when your remodel is completed. In addition, all aspects of the project, and all communication are handled in house. Think of us as a concierge service for your remodel.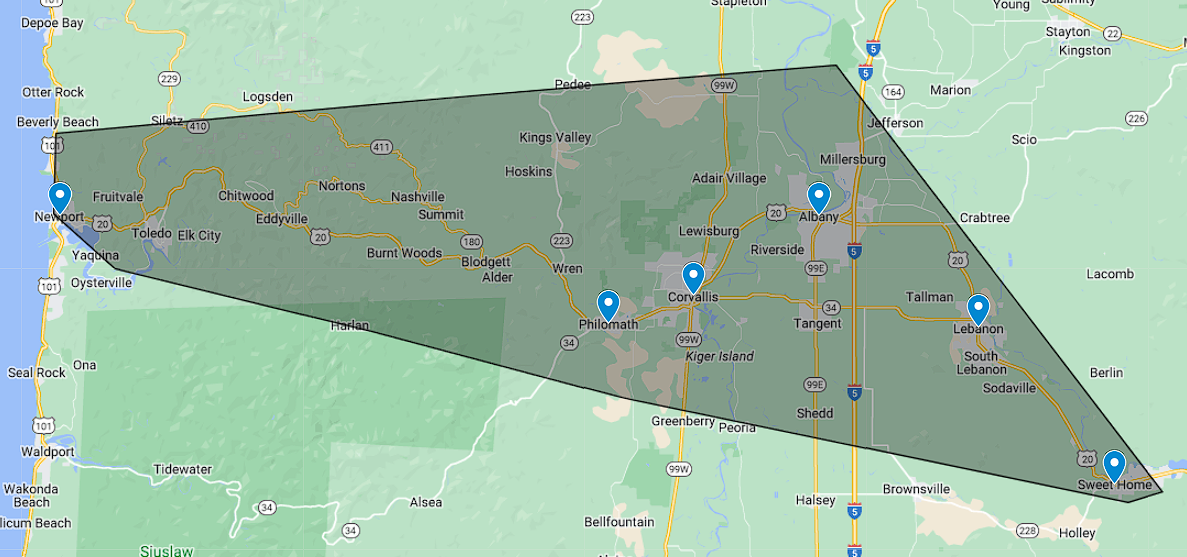 Areas We Service
Corvallis Custom Kitchens & Baths proudly remodels in the following areas of Oregon:
Lebanon
Sweet Home
Albany
Corvallis
Philomath
Newport
Don't see your city on our list? Reach out to us to see if we can remodel in your area.