CORVALLIS CUSTOM KITCHENS & BATHS:
Meet the Team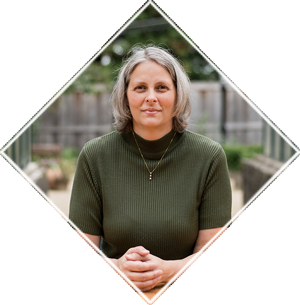 Someone must manage the flood of budgets and balance sheets involved in this business. For us, Debi is that person. As each project steams forward, Debi keeps a keen eye on man-hours spent, bills to be paid, invoices and receipts. Not only does she keep a firm grasp on enough details to make a Vulcan blush, she makes it look easy. Although working with numbers doesn't rate high on most people's list of merriment activities, any successful business must know where every dollar goes. This is where Debi comes into her own.
Debi's detail-oriented experience began at a young age while helping her father as a land surveyor. She has worked for five years as the bookkeeper for Crescent Valley High School, five years as the accounting clerk for CH2M Hill and an additional five years as the bookkeeper for North Albany Thriftway. Here at Corvallis Custom Kitchens and Baths, her tenacity and considerable experience have allowed her to transform a small business bookkeeping scheme into a well-found accounting system.
Although Debi states that she loves the warm atmosphere at Corvallis Custom Kitchens and Baths, it's obvious that Debi is a contributor to that atmosphere in the first place. We all find Debi to be thoughtful, amiable, and always considerate. We are quite sure she doesn't have a mean bone in her body. Rumor has it, Debi dominates at trivia games. It's just how her mind works. It should be no surprise that she gets job satisfaction from hunting down imbalanced numbers at work. Whatever the clerical challenge, Debi is always on top of it.