DESIGN SERVICES PAINT A PICTURE OF WHAT IS POSSIBLE:
Interior Design Services Corvallis, Oregon
"There are many reasons why clients seek us out for design services. One of the top reasons are the 3D color renderings we create for every design. People are visual and there is no better way to show what a remodel can look like than color renderings."
Tinsa Schweitzer, Designer & Co-Owner, Corvallis Custom Kitchens & Baths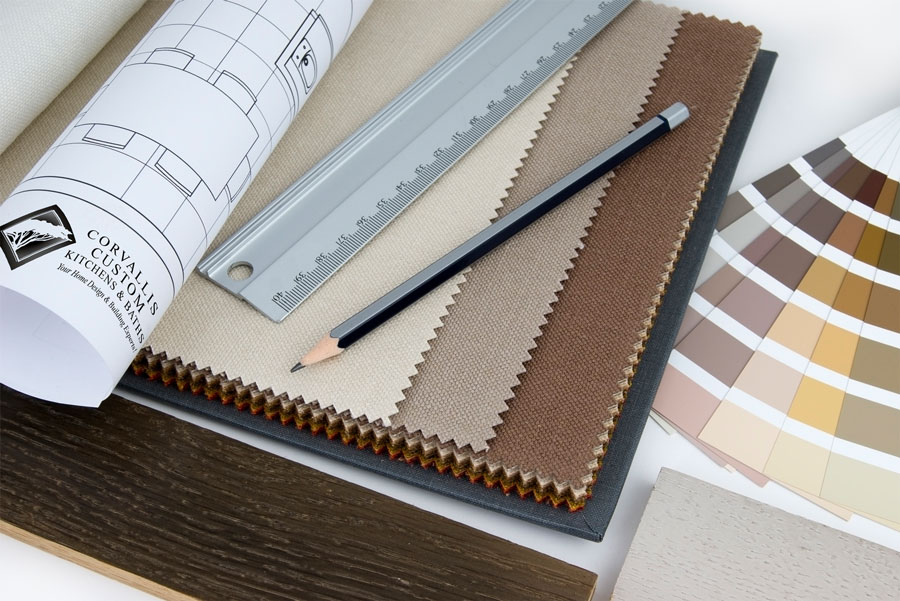 Design services allow our clients to visualize what their space will look like before a single board is cut. Our design staff is skilled in the art of the possible. We take your ideas, turn them into a realistic 3D renderings so you get a sense of what a project will look like when completed. We also use our expertise, training, and experience to make recommendations and suggestions based on your goals and vision.
Our design services are perfect for homeowners who want tight collaboration between their design team and the general contractor. You get the best of both worlds all in one team. Our clients are served by a talented design team that collaborates with our in-house general contractor to keep their project within their budget range, meet their functional and aesthetic desires, and ensure a detailed and thoughtfully planned project before it even begins. The design-build process is perfect for any type of client.
HERE ARE SOME EXAMPLES OF HOW THIS COLLABORATION BENEFITS YOU:
- We provide detailed plans that include cabinet elevations and details about the storage solutions that will be incorporated into the design. This prevents costly delays and keeps your project on schedule.

- We take thorough dimensions and notes of the affected spaces of their home so our construction team and trade partners are on the same page as to what needs to be done and where things should be located. There is no "back and forth" or guessing.

- We develop an electrical plan for lighting and placement of switches and outlets. This allows our clients to truly customize their space by locating electrical outlets exactly where they are needed for your appliances and electronics. Not only does this minimize the need for unsightly cord tangles, but it allows for extremely accurate estimating. Our custom-designed solutions eliminate the guesswork that would occur without an electrical plan.

- Once design-build construction begins, the 3D renderings serve as a tool to not only help our clients visualize the space, but to ensure that their designer is understanding their vision. Without 3D renderings, misunderstandings can occur because a client may not know how to articulate their vision clearly to their designer. 3D renderings can illuminate where there may be a difference in vision.

Bottom line, our design services ensure we can provide an accurate estimate to build your project, and provide a clear vision for our construction team and trade partners so they are on the same page before demo day!
A FEW MORE REASONS TO CALL US FOR A DESIGN SERVICES CONSULTATION:
- CCKB has been a member of the National Kitchen & Bath Association for over 25 years.

- Our lead designer is a graduate of Oregon State University with a degree in Interior Design & Housing Studies.

- Design services shows the design in 3D and assists in narrowing down choices of materials, which saves time.

- Our philosophy encourages collaboration. We encourage you to meet with the designer to discuss your project goals and leverage professional knowledge and expertise.

- Design services allows us to form an accurate estimate on your project. This minimizes financial surprises later in a project.

- Working out design details before demo day means no construction delays because potential issues can be spotted early and addressed.

- Design services minimizes unnecessary change orders which saves time and money during a project.

- We have a collaborative design team with expertise in not only drawing plans for a project, but in assisting clients with materials selections, paint colors, space planning, and pricing.
---
As Co-owners of Corvallis Custom Kitchens & Baths, Ryan and Tinsa have built an experienced design and build team who take pride in helping you to get the most from your home. They sweat the small stuff so you don't have to. CCKB makes your design and build project smoother and more pleasant than you could ever imagine. You'll love the results!
Our past Corvallis, Oregon projects that we would like to showcase: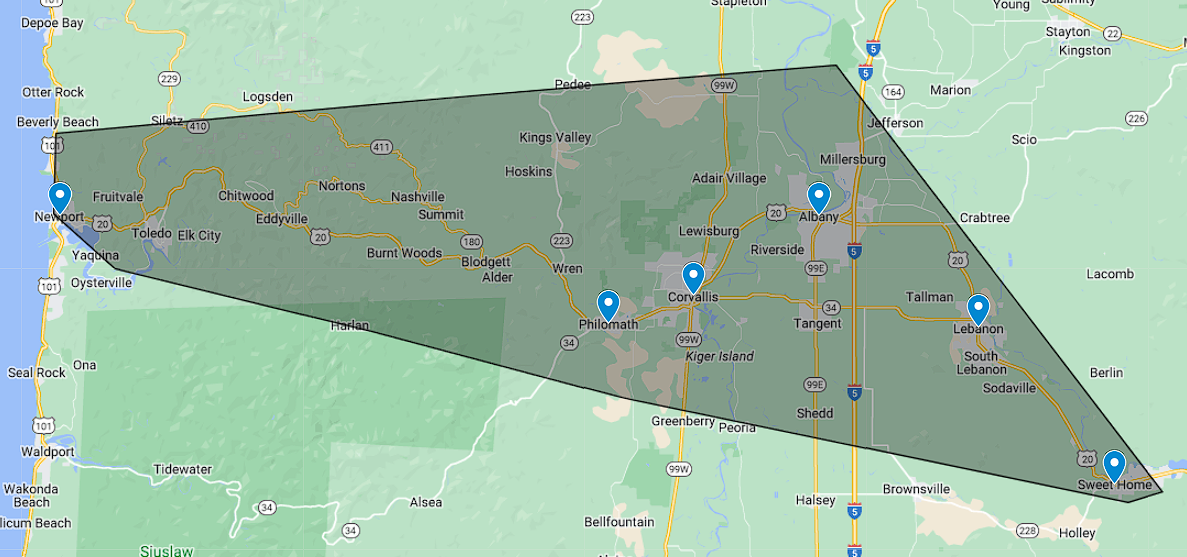 Areas We Service
Corvallis Custom Kitchens & Baths proudly remodels in the following areas of Oregon:
Lebanon
Sweet Home
Albany
Corvallis
Philomath
Newport
Don't see your city on our list? Reach out to us to see if we can remodel in your area.